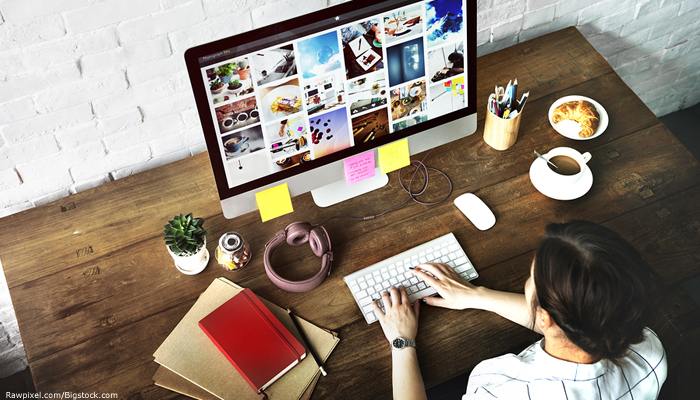 They say that a picture is worth a thousand words. By that measure, Pinterest may well be one of the most content rich sites on the Internet. Whatever the case, people are clearly engaging and lingering on Pinterest; it's the fourth highest driver of web traffic in the world!
These days, visual content is king. Clever infographics go viral quickly. YouTube users view four billion videos a day. Instagram is more popular than Twitter. Facebook posts with photos generate 53% more likes than posts without them. You might not be aiming to top any of these social media giants, but you can leverage the same strategies they employ to draw traffic to your site, too.
There's another old adage: show, don't tell. Our brains are wired to process images. Almost 90% of the information our brains receive is visual, and we process those images 60,000 times faster than text. Images cut through the clutter. They promote and brand products and services in a low-pressure, user-friendly manner.
So how do you use visual elements to effectively draw traffic to your site? First, you have to create original content. That may mean creating unique and compelling images to draw readers in, or ensuring that what they find on your website once they've clicked through is informative, engaging, and high quality. Whatever original content you create, it'll be the key to giving them not just a reason to click through to your site, but a reason to stay interested once they get there.
Be Bold. Remember, a lot of people are scanning their social media feeds on mobile devices. Your shared images have to grab attention even when they're tiny. High contrast and bold colors help, as do striking images that make people look twice, or want to go in for a closer look.
Don't skimp on site design. Hire a graphic designer to ensure your page is professional, sleek, and visually appealing. Users may be compelled to check out your site with the promise of great content, but they will bounce quickly if the design doesn't engage them—or worse, is ugly and difficult to navigate.
Mix it up. Not all visual elements have the same impact. Pictures may be worth a thousand words, but be sure to frame them in an overall experience that will engage your users. Our brains like contrast and diversity. Pictures are likely the main thing your users will notice, but careful choice of typography, color, and other design elements make your users more likely to stay on your site, or return to it. Pinterest, for example, uses an attractive layout and a simple color palette that draws your attention to the pictures. Add an easy and fun user interface and people will stick around.
Connections. If you're not already, get your brand out there on the existing social media platforms. Create Pinterest boards that showcase your content. Instagram your latest updates. When you post on Facebook, don't just add links. Make sure your photo gallery is rich with visual content, even if not all of them are actual photos. Go further and invite and encourage your users to re-share or contribute their own pictures to your feeds. Encouraging sharing is the key to content going viral, and your message could potentially reach a much larger audience than you've anticipated.
Visual content is a powerful tool in your toolbox, and if you want to capture attention, hold it, and deliver complex, emotional content quickly and directly to your audience, a picture may truly be worth a thousand words.
by Andrew R.
KCWMS