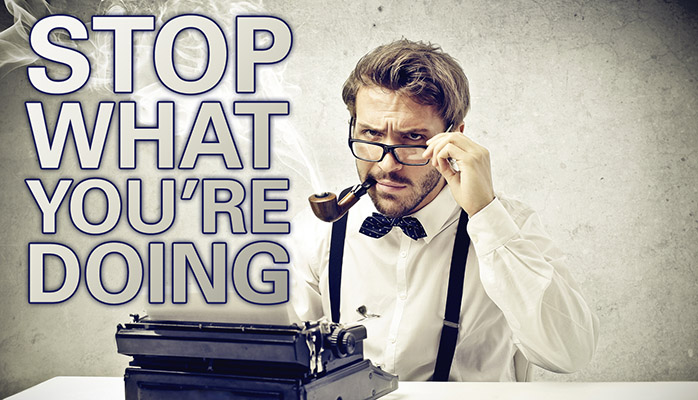 Crafting original blog content that aligns with your business processes, speaks well of your products or services, resonates with your target audience, and sharpens your brand image is demanding work. A lot more goes into it than many people realize. Much like writing a short story or novel for publication, more time is spent preparing the storyline, polishing the characters, and determining the outcomes than is actually spent writing it all down. If there was ever a time when just disgorging a bunch of keywords, phrases, and clauses all over a page was sufficient for blogging success, that time is long past. These days, blogging isn't just about blogging anymore. A lot more goes into blogging than just writing and posting, and the behind-the-scenes work that goes into making a blog post can be just as important as the words on the page, and can play an even bigger role in determining whether your content is successful or not.
When setting out to create great content that will draw in your readers, improve your brand, and help to sell your products or services, there are a lot of factors that come into play. To make things a little easier to understand, we've broken them into three equally important parts: Planning, Focus, and Implementation. While you can probably put a blog up and even keep it updated regularly without taking most of these things into consideration, if you want to produce great content that makes a difference for your business, then you must consider these three points.
Planning
Remember your analogies from SAT prep? Well, planning is to creating great content, as research is to telling a good story. It's about more than just knowing the facts—it's also about knowing how you're going to use them. Creating great content means planning individual blog posts, but it also means planning across your entire blogging strategy, to make sure you're getting the most out of each post, and that all your posts work together to create engagement and reinforce your brand identity.
Create Content Calendars: Don't fail to plan. Biggest. Mistake. Ever. Content calendars can be as simple or as complex as you need, but taking just a little time at the start of each month (or quarter) to look over your content marketing strategy allows you to plan your content to take advantage of dates, events, product releases, sales efforts, promotions, and other marketing activities, giving each piece of content a lot more bang for your buck.
Perform Keyword Research: While some people put too much emphasis on hitting keywords over producing great content, the fact is you need to know which keywords and phrases are going to help you reach your target audience and draw them to your site via search engine results.
Evaluate Keywords: Another part of keyword strategy involves picking the right keywords, not just for your market, but for your audience. What you call something internally may not be what people are searching for when they look for your product or service. This is another place that keyword research and Google Trends research can come in handy.
Keep "Local" In Mind: Especially with the rise of mobile searches, consumers expect to discover local businesses through search engine results. Make it a point to use keywords and phrases that help with geolocation, and that local customers are likely to know and use.
Research the Market: Maybe you're already keeping up on advances in products and services within your industry—but are you watching what your competitors and other successful businesses in your industry are doing as far as content and keywords? Keep up on what's happening, so that you come across as knowledgeable and reliable within your market.
Consider Post Time: There's plenty of research out there about the best time to post to blogs, social media, and more. Not just breaking down the best time to post to a particular social media platform, but the best times to talk about certain subjects. Is it better for you to post on Monday morning than Thursday afternoon? Do some research, and check your analytics, to find the answer.
Determine Frequency: Similarly, analytics can tell you whether you should be posting blogs weekly, monthly, or more frequently. Too many posts can drown your message in noise, not enough may mean that you get overlooked.
Focus
Focus is all about identifying your goals, identity, and company values, and making sure that your content reflects them in a way that puts your best foot forward, and speaks to your core demographic. In English Comp 101, we all learned to "identify the audience" before starting any piece of writing. It's especially important to know your audience when you set out to create great content, as well as what kind of action you want your audience to take after reading.
Stay Focused on Business: Smart content teams connect blogs to business processes. Content can be aligned with activities such as promotions and product releases. After all, your ultimate goal is to get your product or service into the hands of the consumers, to ring the cash register. If you can do this by giving them something they're looking for and telling a good story, then you're already well on your way.
Find Your Voice: It's important to find the right voice for each individual blog entry, but it's even more important to create a consistent and reliable corporate voice for your entire content strategy. Who should write your blogs? You? Someone else in the organization? An outside professional writer or writing team?
Determine Length: Most blog articles start at around 450-500 words and go up from there, but the ultimate length you'll want to hit will depend on your readers and the needs of your content strategy, as well as the channels where you intend your content to appear. A 500-word blog article may be an effective addition to your website, but LinkedIn recommends long-form posts of 1,500 words or more to attract the attention of business professionals and executives. There's actually a demonstrated positive relationship between the length of an article and the number of shares it receives on LinkedIn, so once again, keep your audience and channels in mind when determining the length of a blog post.
Identify Top Subject Matter: Choose topics that speak to the needs of your brand and the interests of your target audience. This is another area where research into what's happening in your market or industry can come in extremely handy.
Consider Shareability: Your content will get in front of a lot more eyes if your followers re-share it and spread it across the Internet. After all, it's pretty much every content marketer's dream to have something of theirs go viral. So consider who your followers are on Facebook, Twitter, and LinkedIn. See what they reach and share, and what matters most to them, and try to speak to that.
Implementation
While the behind the scenes work of creating content is vital, you still have to actually produce the content before anyone will see it. Implementation is about actually getting the content where it needs to be, as well as making sure that you're using the best channels and resources available to you. The previous stages have been about getting yourself into a position to create the best content you can; this stage is about actually making it happen.
Define Credibility Factors: What will make a reader take your content seriously? The most obvious factor in credibility is quality content, but good design and use of imagery are also important, so don't skimp on them in the hopes that your prose will carry the day.
Test Titles: Titles are an important part of any piece of good content. When choosing a title, find out what resonates best with your own team. Shoot options around the room and see how people react. Also take into account what titles might resonate most with your target audience, or what kinds of titles have worked well in the past. Ask yourself: Is the title actionable? Interesting? Keyword-conscious? And don't forget, titles that incorporate numbers get more shares than titles that don't.
Select an Appropriate Image: Blogs with images receive 94% more clicks than those without, not to mention more links, so selecting the right image is a vital part of making sure that your content gets seen. Do some research to find out what kinds of images resonate with your core audience, and always make sure that the image you're using is royalty-free and/or that you've got the rights to use it how you're using it.
Know Your Allies: Think about who outside your organization might help promote the articles after they post, and don't be afraid to reach out to them in order to help get the word out there.
Determine Format: Don't limit yourself to just posting to your regular blog. Consider using your content in different and innovative ways. Maybe your content can be more than just a blog post. Consider turning it into an infographic, or incorporating it into a series of social media messages over the course of the month.
Write: Sooner or later, it all comes down to actually putting the words on the page. When you're finally ready to actually write your post, stay focused and stick to the plan. It's all too easy to rush the job once you're actually doing the writing, and turn out something that's not in alignment with your preparations. Don't spend all that time researching and planning just to rush the job when it comes to execution.
Revise and Edit: There's an old saying that movies are made in the editing room, well the same is true for good writing. Nothing ever comes out perfect on the first try, so revising and editing your content before you post it is essential. It's also good to get it in front of at least one more pair of eyes before it goes live; they may catch something you missed. You can even post your content in a draft form (not actually published or "web-facing")—complete with formatting and any image(s) you've selected—and let other members of the team get a good look at the whole package before it goes live.
Evaluate: Even after you've posted your content, you're still not done. Use analytics and social media stats to show you what worked and what didn't, and incorporate that information into your content plan going forward. Pay attention to your successes and your failures, and use all that knowledge to change your content approach as necessary. Remember: You're a publisher now! If you see something that readers really loved, something that has a shelf-life long after you posted it, then that's an opportunity to revisit the topic and develop or expand upon it. Think of it in terms of sequels to popular movies or books. Imagine if Marvel had stopped after the first Iron Man movie, or if J.K. Rowling had written only one Harry Potter novel. Talk about a missed opportunity!
Looking all this over, it can seem pretty daunting, and it's easy to feel like you'll be spending all your time creating content when you're already swamped with sales, marketing, and management activities. Fortunately, with some planning, content creation becomes a more approachable task, and it can be made easier by splitting some of these jobs up to different members of your team, and then have everybody bring what they've discovered back to a content creation planning session once or twice a month. Like with anything, the more commitment you bring to the front-end of your content creation strategy, the more seamless it will all become over time. Alternately, there are full-service content creation teams that can do all the heavy lifting for you, helping you to find the answers to important content questions, and creating scintillating content that builds your brand, engages your target audience, and reflects your goals and values.
by Steve J. Scearce
KCWMS